The RCMP is showing off one of its pieces of equipment it uses to help catch impaired drivers. The Mobile Breath Test Unit is in Grande Prairie for the weekend and will be stationed at checkstops in the area until Monday.
The van is outfitted with everything an officer would need to test, process and possibly release a driver. "K" Division Impaired Driving Specialist Sergeant Brent Robinson says it makes things a lot easier when things are all together and on wheels.
"It's nice because we can go right into campgrounds during the long weekends. Then in rural Alberta, we can go to town sites where they've got family reunions, town anniversaries and stuff like that and test people right on site."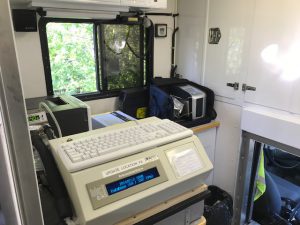 The van features both a regular phone and a satellite phone for people to call for lawyers, a line where people can do the traditional walk the line test and two machines that can test for alcohol, as well as cocaine and pot.
Before this unit existed, officers would need to take suspected impaired drivers to an RCMP station for testing. Looking back on a previous trip, Robinson says this unit save officers a lot of time.
"Normally we would have picked up the impaired, let's say at the Big Horned Dam, driven into Rocky Mountain House which is about an hour away and given him the right to counsel and then finally get to the testing. That could have been an hour and a half later… One impaired would tie a member up for the full day. With this one here, we're on site [and] it'd done. Testing itself takes about half an hour and so within about three-quarters of an hour, we're back out testing for other drivers."
The vehicle is now available to RCMP detachments by request and Robinson says people in the city could be seeing it here quite often in the future.