The Autos For Aria fundraiser held on Friday night in Grande Prairie helped raise $13,000 for the family of 3-year-old Aria Deschamps.
Aria, who is suffering from a rare form of childhood T-Cell Lymphoma, arrived at the event in a classic Shelby Cobra with her father Brandon behind the wheel to a standing ovation and over a hundred well-wishers.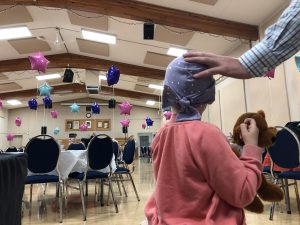 "It makes me emotional seeing everyone come together for my daughter," says Brandon Deschamps.
"To see everyone get together for my daughter, and 80 percent of them are strangers, it means so much, it really does."
When Aria, who in her short life has already had a 10-inch by 2-inch tumour removed from her chest with an approximately 75 percent chance of beating the disease, entered the Elk's Hall for the first time, her little voice could only ask in a surprising tone, "All for me?"
On top of the classic car show in the parking lot, the over 100 in attendance chipped in even more than the $40 price of the ticket by taking part in both a silent and live auction.
The money will go a long way in helping the family commute between their home in Grande Prairie and the Stollery Children's Hospital in Edmonton, where Aria is undergoing treatment for what could be the next two and a half years. However, if the unthinkable were to happen, Aria and her family have plans for where the raised funds will go.
"She is going to be donating any of the funds that remain right back to another family, or maybe Ronald McDonald House; they've been a huge help for us. If it doesn't help us, it's going to help another child down the road."
The money raised from the event will add to the more than $25,000 thus far raised as part of a GoFundMe campaign which began back in April.