Grande Prairie is once again the city with the highest per capita fentanyl-related deaths in the province. According to the Q1 2019 report released by Alberta Health, 11 people have died in the city so far this year due to accidental fentanyl-related overdoses.
However, according to Assistant Executive Director at the Northreach Society Johnathan Fortune, a heatmap issued with the report shows that the deaths aren't happening in the places he believes people would expect.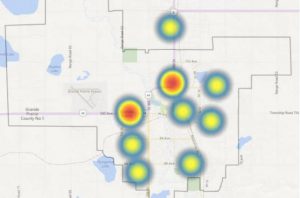 "Rotary House isn't featured and isn't a concentrated hotspot where these deaths are happening. When you look at it, it's other hotels, motels and people in the suburbs. It just goes to show that the epidemic isn't one person's problem; it's really going to take everyone to beat and it affects people from all walks of life."
In 2018, 24 people lost their lives to an accidental opioid overdose in Grande Prairie. That number peaked at 27 back in 2017.
Fortune believes the use of the drug isn't necessarily going up, but it's perhaps being unknowingly ingested by recreational drug users.
"These are probably people who aren't intentionally using fentanyl, and that would tell me that people who are likely using other substances and have accidentally used fentanyl without actually realizing it."
Grande Prairie sits third in total fentanyl-related deaths in Alberta, trailing only the two most populous cities, Edmonton and Calgary. Cities more comparable to the size of Grande Prairie all have single digit opioid-related deaths year-to-date in 2019. Lethbridge has had nine reported deaths, while Red Deer has just four.
The city has a number of operations in place to help curb the trend of fentanyl overdoses, including The Community Opioid Response Task Force, as well as a safe consumption site which was opened in March 2019.