Potentially life-changing medical appointments can cause enough stress and strain on a family. However, one Grande Prairie area not-for-profit is doing everything they can to alleviate that stress.
Started by Edmonton based Dr. Kerry Pawluski in 2006, Angel Flight Alberta offers free of charge flights for anyone needing medical service at hospitals or facilities in Edmonton and Calgary.
Director and volunteer pilot Mike Edgar says nearly every time he takes to the sky with a passenger they are noticeably upset with what is to come, but he says the flight itself goes a long way in taking their mind off the matter at hand.
"Generally you get up in the air, start soaring along and start looking at the beauty down below and really it does take a lot of the burden off."
Edgar says the service doesn't stop when the plane touches down.
"Typically what we do is once we get to Edmonton, we also as the pilots also drive them to their appointments, so we take them right to the door, they go to their appointment, we're waiting for them when they come out and we deliver them back home."
But with the cost of fuel rising, Edgar says they more than ever need a helping hand of their own. That's where 100+ Women Who Care come in.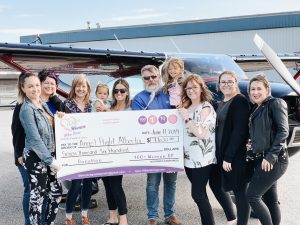 Reforming after over a year, 100+ Women Who Care met back in May, and voted to give Angel Flight Alberta a gift of $7,600 to be used in whatever way helps most.
Edgar says the money couldn't have come at a better time as word of the service has begun to reach well outside of the province.
"We are being contacted by people out of BC, and also into Saskatchewan. The bottom line is, we just want to help people to make these appointments and to make it easier for them."
Angel Flight Alberta currently has 25 pilots who volunteer their time and aircraft for the service, and Edgar says it's never a problem recruiting more.
"You fly somebody once, you'll just be putting your hand up and saying 'I gotta do this again'. We meet incredible people, we hear wonderful life stories, and it's great just to make things a little bit easier for them."
Angel Flight has completed over 140 flights since the start of 2019.