It may be a few thousand kilometres from the "6ix", but some Grande Prairie basketball fans are trying to get the city involved in basketball fever.
Mike Dirsa and his hoops playing friends were thinking about ways to get the neighbourhood more involved in the Raptors championship series run, especially since they actually live in 'the north'.
A 16-foot screen, projector and hoop in the driveway later, and the idea became a reality.
"Grande Prairie is mostly a hockey town but there is kind of a few people now getting interested in basketball,"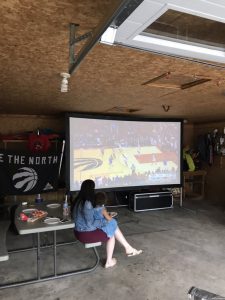 Dirsa says the crowd was bigger than anticipated and hopes it only gets bigger as it makes the rounds on social media.
"We both play in the Grande Prairie men's league, so we kind of already have a bunch of guys who are already interested in basketball. They created an NBA finals Facebook group and put it out on there, and word got around and spread a little bit and there ended up being 35 or so people yesterday."
Dirsa says the invite will remain public, and he hopes to have another viewing party on Wednesday when the Raptors try to claw out a Game 3 victory against the Warriors in Golden State.