Grande Prairie Petroleum Association President Rob Petrone says plans for yet another new pipeline in the area is great news. A $1.3-billion natural gas liquids pipeline system has been proposed to link the Montney and Duvernay areas with Fort Saskatchewan.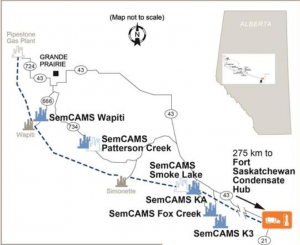 Calgary-based SemCAMS Midstream says it has partnered up with Keyera Corporation to build two 275-kilometre pipelines. That includes a 16-inch condensate pipeline and a 12-inch NGL pipeline.
"It's exciting that we see some of these facilities and pipeline infrastructure projects coming to move our product to market," says Petrone. "The existing systems are loaded now [and] to get extra capacity is great for the future."
SemCAMS and Keyera say their goal is to let producers move more natural gas liquids out of the region and off to market. Petrone says it's important to get the product to where it's needed most.
"The largest consumers of natural gas and even our liquids and stuff are [the] northeastern United States and the southern United States… We're a long ways away from the marketplace so to get these pipelines in and be able to get to the market where it's used is critical."
It is hoped that the pipelines will be up and running in the first half of 2022. The partnership will replace SemCAMS' previously announced Montney to Market pipeline.