Instant Information & Now Instant Repairs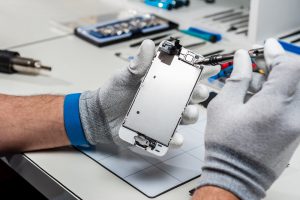 Technology has been moving at break neck speeds for years now. What was once done on a home computer, is now done from our phones in an instant. Check news, pay your bills, and write e-mails, even watching entire movies all at our finger tips.
When there is so much you can do with your phone, it's devastating when it breaks. A cracked screen can make it impossible to read or input what you want. A battery that doesn't hold its charge makes your phone a very expensive paper weight.
If your phone isn't doing what you need it to do, there's an answer that isn't getting a brand new 500 dollar phone. Bring your phone to Cellphone Expert and let them work their magic!
A New Phone Every Year?!
It's no secret Smart Phones are constantly improving, but getting the newest phone every year, or even every 2 years, can be an expensive trend. That's why getting your old phone repaired is a better option for keeping your money where it belongs – in your wallet!
A repair can be a fraction of the cost of a new phone, and you don't have to sign a contract! Cellphone Experts can add new life to your phone so that you don't have to hand over your hard earned cash.
Convenience is King!
You live a very busy life! With work, family, and friends there isn't much time left in the day. That's why Cellphone Expert will come to you when you need to get your phone or tablet looked at. Add in their fast repairs, you'll have your tech back in your hands in no time!
Instant Gratification
Instant gratification is par for the course with Smart Phones. A friend sent you a link to funny video, one quick press and you're laughing. Need to get tickets for a movie on Friday, hop onto an app and you'll have your tickets in the blink of an eye.
This is the philosophy Cellphone Expert applies to everything they do. When you need a repair they do everything in their power to repair your phone as quickly as possible. They can even gear you up so your phone isn't just protected, but also looks amazing too!
Cellphone Expert and you
Our phones are more important to us than ever before! The days of sitting in front of a computer are gone, and you expect so much more out of your technology. That's why you should depend on Cellphone Expert to keep your phones and tablets working at lightning quick speed! They aim to exceed expectations every time, and they haven't missed their mark yet!
Cellphone Expert has the fastest and most affordable services in Grande Prairie! Plus, their mobile service that comes to you when you're too busy, and all the extra accessories to keep your tech protected, Cellphone Expert has more than earned their names! Stop in at Cooperators Square, or check out Cellphone Expert on Facebook.