The Van Schaicks must have a lucky horseshoe tucked away. The couple has won the 2019 Rotary Dream Home Lottery, just one year after winning the draw for a GMC Terrain in the 2018 lottery and a decade after winning a sports car in Edmonton's Full House Lottery.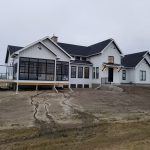 "We're very, very blessed," said Sandra as she and Dwayne took their first look at their new home Friday night. They bought their ticket without viewing this year's grand prize, built by Highmark Homes and valued at $1.4 million dollars.
All it took was one ticket for the Grande Prairie natives to win the Carriage Lane home. While they aren't sure yet whether they plan to move in or put it on the market, the grandparents noticed right away that there's lots of room for sleepovers.
"We wanna have a look but it's very promising," Sandra says.
The pair say they have bought a ticket every year since the Rotary Club of Grande Prairie started its dream home lottery 26 years ago. They say they see the value in the community organizations it supports.
"We've had family members ourselves that have needed assistance at some point, whether it's health or otherwise, and it's a great cause and we support a lot of things in the community," Sandra explains.
"We're born and raised here too," adds Dwayne.
While not a sellout, this year's lottery was record-setting. The total amount of tickets printed was increased by $135,000 over what was sold in 2018, helping raise an extra $77,000. The 50/50 reached $573,000, surpassing last year's record of $550,000. Half of that went to winner Linda Rosentreter of Grande Prairie.
Cash Cow Calendar Lottery winners will be announced every weekday in May. 2day FM is proud to be a gold sponsor of the Rotary Dream Home Lottery.
A previous version of this article included the misspelling of Mr. Van Schaick's last name. We sincerely regret the error.