The words "City Centre" will welcome travellers into the downtown core of Grande Prairie in the not too distant future if the downtown association gets its wish.
The current sign, made of concrete with block letters, is past its best before date according to downtown association Executive Director Wendy Bosch.
"It's tired and it doesn't reflect who we are anymore. At one time it sure did  but progress moves ahead and so then does the image and statement of who you are."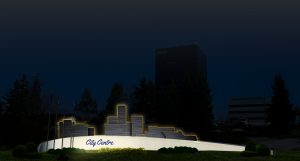 Bosch believes the negative connotation that comes with the word "down" starts people off on the wrong foot, and hopes a new sign could bring with it a feeling of anticipation.
"Something that is focused as a modern urban vibe and respecting the historical side of our city, but moving in progression. Not dating us."
The new signage will also have nighttime and special occasion feature built in. A strip of LED lights on the silhouette of the downtown skyline.
The downtown association has asked the Grande Prairie City Council for $50,000 to help fund the changes. They have also pledged to throw in $25,000 of their own if the request is granted.