A meeting to get the thoughts of Grande Prairie-area youth and stakeholders on pepper spray and segregation in youth justice facilities has been cancelled. A community conversation had been slated for Grande Prairie on February 25th but the Office of the Child and Youth Advocate reports a number of people invited couldn't make it.
Advocate Del Graff has expressed concern about an increase in the use of pepper spray to restrain young offenders, as well as segregation while they're in the youth justice system. Communications Manager Tim Chander says reports have shown their use to be linked to an increase in aggressive behaviour and Post-Traumatic Stress Disorder in young people.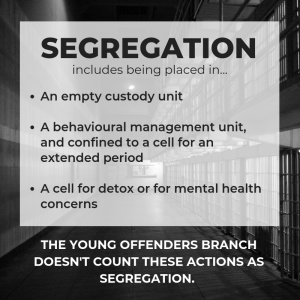 "We're not saying eliminate them; we're just saying try to maybe use them less frequently as tools."
In February 2016, trained staff members at Alberta's two facilities for young offenders were able to start using OC spray, which is also known as pepper spray. Before that, a team from an adult facility had to bring it in if needed.
According to the Edmonton Journal, pepper spray was used 12 times in 2016 and 11 times in 2017. In just the first six months of 2018, it was used 13 times.
Community conversations have also been held in Edmonton and Calgary, and Chander says the Office will be reaching out to the youth and stakeholders in the Grande Prairie individually for their feedback. The meetings have reportedly sparked thoughtful and emotional conversations.
"Everybody, at the end of the day, wants a young person, if they're in the system, to come out of the system better than when they first went in," maintains Chander.
Chander adds the goal is to get the perspective and experiences of people who have been involved in the youth justice system in order to publicly release a statement of concern. There could also be some recommendations made to the provincial government.
While the meetings have been by invitation-only to protect the youth involved, people interested can arrange to share their thoughts by calling the office at 1-800-661-3446 or emailing [email protected]