Todd Russell will again be running for the NDP in the upcoming provincial election. He was picked by party members in the Grande Prairie riding Tuesday evening.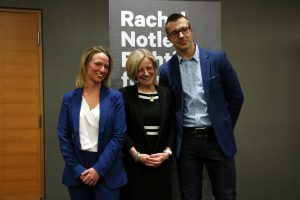 When Russell sought the nomination of the NDP in Grande Prairie – Smoky in 2015, he was uncontested. However, HIV North Executive Director Melissa Byers also threw her hat in the ring this time around.
"Melissa did such a great job," Russell says. "I really had no idea where it was going to land. I was feeling pretty confident going in and then when she got up there and talked I was like, 'jeez, you've kind of got me sold.'"
Also at the nomination meeting was Premier Rachel Notley, who addressed the packed Rotary Community Room at the Grande Prairie Public Library. She commended both candidates, and outlined why she believes the NDP should continue to run the province.
"Todd has a proven track record of fighting for families in Grande Prairie and I'm proud to have him on our team," she said afterwards. "He's got what it takes to stand up to conservative plans for cuts and pain and will be a strong representative for Grande Prairie in the legislature."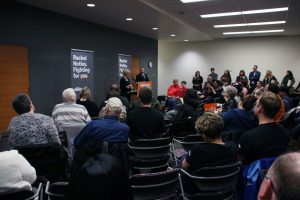 Russell has been a local firefighter for 18 years and is currently a captain on the Grande Prairie Fire Department. He also helped found the Grande Prairie Pride Society in 2016. He says he learned a lot of lessons from his first time running, and will be taking that into this campaign.
"It was really just two of us that carried a lot last time; looking forward to building a bigger team and having a bigger approach this time. Doing a lot more listening, and less talking."
The plan is to put together a team this week and hit the ground running. Russell says the key to his party's success will be connecting with people and getting out its messaging.
"When I talk to people, a lot of times I hear pieces of information or perceptions and if I get a chance to talk to them, I get a chance to fill in some of the gaps, sometimes that helps."
Also confirmed to run in the new urban Grande Prairie riding are the United Conservative Party's Tracy Allard and Grant Berg with the Alberta Party.