The Caribou Child and Youth Centre's newest employee may look a little different. The Grande Prairie centre which helps those who have been abused or exploited recently got a facility dog named Archer. Coordinator Kallie Barker says Archer's main job is to support those who use the centre's services.
"When a family first attends he's there to greet the children when they're sitting in our waiting room prior to their interview. When a child is going in for their forensic interview they have the choice to have Archer sit in with them… Archer's also available for use for children who are going through the criminal court process so for court preparations, meeting with the crown, courtroom tours, on the actual day of court he'll be in the support room with the families and he will have the ability to go on the stand while they testify."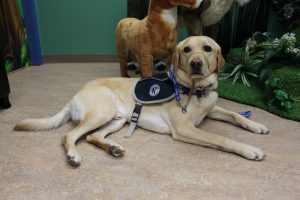 The two and a half-year-old yellow lab went through two years of training and was placed with the centre on December 1st by Dogs With Wings. Based out of Edmonton, Dogs With Wings trains service dogs for a number of different tasks such as helping a child who may have Autism or training one to be placed in a school. Archer is the only facility dog in Northern Alberta.
Archer has not been on the witness stand yet but has met with a number of children at the centre. Handler Roxanne Beeler says it means a lot to the children to have him there.
"They seem very excited that he's theirs for the day. When he's supporting the child he's literally their dog for the day so he's just hanging out with them and he's just there for them to cuddle. I think it gives them a little bit of control in a really out of control situation."
Barker says 171 children passed through the centre in 2018. They then saw 27 children just in the month of January this year. Barker hopes to have Archer continue to meet with every single child that comes through the doors.