A local dietitian says she's excited about recent changes to the Canada Food Guide. The new guide recommends things like fewer processed foods, more fruits and vegetables and a move to plant-based proteins. Karie Cassell says she's excited the guide is now reflecting things she's been saying for years.
"For me, I'm saying this is great because I've been saying for a while that we need to get people on the track that way and so the guide is just reflecting that which is encouraging to have a tool that helps promote what we've been trying to say for some time; it needed updating."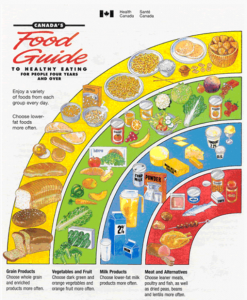 The first food guide came out in 1942 and was designed to help people follow a healthy diet. This will be the first time its been changed in 12 years. This time around, the government has moved away from giving serving sizes and has also removed the four food groups, instead, using a plate of food divided up to show amounts.
New recommendations include drinking water instead of juice, eating more whole grains and encouraging people to cook and eat with family. The guide has also shifted away from dairy as well as meat in favour of plant-based proteins like beans and lentils. In a statement, the Canadian Cattlemen's Association spoke out against that change.
"In urging the consumption of more plant-based proteins over animal sources of protein on a daily basis, Health Canada missed an opportunity to inform Canadians of the nutritional benefits of eating lean beef as a protein source. It would be unfortunate if Canadians interpret this bias toward plant-based proteins as a signal to remove red meat from their diets."
Cassell believes the change was made to open the guide up to a wider variety of people who may be from different cultures or backgrounds.
"Statistically, looking at the risk of heart disease, diabetes; this is epidemically rising, it's not lowering; what do we need to do to shift? Canada's Food Guide has to transcend across all cultures, genders, sizes, ages, literacy you name it; so you have to have a tool that's going to encourage some of these cultural type, respectful, high protein foods and help lower disease risks."
She goes on to say that she thinks both could be represented instead of one or the other.
"I'm not completely off track with them. I feel we do need to see if we can't give guidelines on how to still include some of these products without [an] all or nothing sort of thinking."
Cassell says this new guide is only a guideline and isn't something that can be put into place overnight. She believes it will take a bit of time to phase it in. For tips, recipes or to view the full food guide visit the Government of Canada's website.