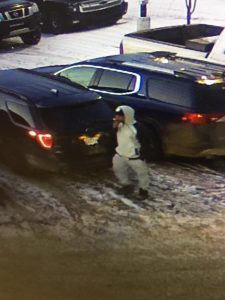 A young man wasn't hurt when he was the victim of a carjacking in Grande Prairie Sunday. RCMP says he was getting something out of a parked vehicle in the area of 107 Avenue and 109 Street around 9 a.m. when a man he didn't know came up to him.
The suspect reportedly showed the teen a weapon and told him to hand over the car keys. He then drove off in the vehicle, which was a red 2013 Honda Civic with the licence plate BVZ 2065.
Mounties and Police Dog Services say they extensively patrolled the area but couldn't find the carjacker. It's believed he may have been involved in other undisclosed violence and officers are still looking for him.
The suspect is described as dark skinned with black hair. He was wearing a grey hoodie with black accents, grey sweatpants, black boots, and a black hat. Anyone with information on the crime is asked to contact RCMP or Crime Stoppers.