One Grande Prairie couple recently had an experience they won't soon forget. As part of WestJet's annual holiday video, Amy and D'Arcy Barton were flown to London and told they would be participating in a commercial. D'Arcy says he was contacted by WestJet back in September asking him to tell them about people they missed in their lives.
"They were like tell us about your friends in Australia and we were like oh Robin and Chris. They were the first people that we met when we moved to Grande Prairie and we were friends for 10 years… They moved to Vulcan five years ago and then two years ago they moved to Australia."
Little did the couple know, out of 50,000 applicants, WestJet had chosen them to be reunited with Robin and Chris. The couple flew to London on Remembrance Day not knowing their friends were already there.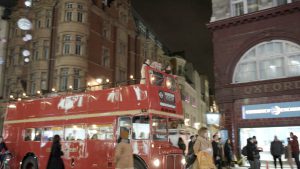 Crews followed the couple around the UK for a few days before having them do one more fake interview and telling them to get on a double-decker bus. D'Arcy says that when he got on and saw his friends, everything clicked.
"They said go up on the bus, look around. I saw them almost right away as soon as we were up there and then it clicked. They knew the whole time that it was happening and that's when they told us you guys are the Christmas miracle."
WestJet Senior Content Manager Corey Evans says the whole point of this video was to show that it doesn't matter where people celebrate as long as they are together.
"Being together at the holidays is really the most important thing and it doesn't have to be at any one family's home, or going home or having someone come visit you. You can pick a third location and as you saw with these participants, it was just as special for them as if they were at home."
Even though they are back in Grande Prairie now, Amy says it still brings back tears thinking about the experiance.
"It's cool to see things happen to ordinary people. We are just ordinary people. It still brings me to tears just thinking cause this is something that I'm gonna remember for the rest of my life."