The RCMP in Valleyview is hoping surveillance footage from the public could help catch the people responsible for a break and enter. A stolen front-end loader was reportedly used to break into the Valleyview Scotiabank around 3:40 a.m. on November 9th.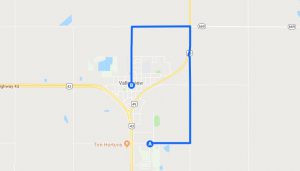 Police believe the suspects stole the loader from a business on 39th Avenue and then smashed it into the back of the bank. They've also identified a second suspect vehicle: a grey, four-door Chevrolet or GMC-style pickup that looked to have a light bar on its front.
It's thought that the suspects turned north on Range Road 222 from 39th Avenue, then north on Highway 49, west on Township Road 704, and south on Range Road 223 to reach the bank on 50th Street. Officers are asking anyone along that route with surveillance or dashboard cameras that may have caught the front-end loader or pickup truck between 3:30 and 5:30 a.m. to contact the detachment or Crime Stoppers.