A decades-long battle between the Lubicon Lake Band and the provincial and federal governments has come to an end. The three parties have reached a $113 million land settlement deal.
The band was left without a reserve when it was missed during Treaty 8 signings in 1899. Premier Rachel Notley says this agreement is meant to fix that, giving them land, cash, treaty benefits and infrastructure.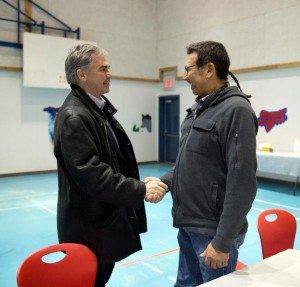 "This is a truly momentous day for the Lubicon Lake Band, for our province and for all of Canada. Decades in the making, this settlement represents an important step forward, correcting wrongs of the past, and building a future dedicated to meaningful reconciliation"
The deal includes more than 246 square kilometres of land near Little Buffalo, northeast of Peace River, as well as $95 million in financial compensation from Canada and $18 million from Alberta. Chief Billy Joe Laboucan says it should improve the quality of life for Lubicon Lake Band members.
"This settlement will afford better housing, a recreation centre which includes an indoor skating rink, an elders lodge and a new school for the community. Furthermore, the conclusion of this 85-year-old land claim will give our membership a more prosperous economic future."
Laboucan notes the end of the dispute is bittersweet, as the 14 people who originally asked for a reserve in 1933 are no longer alive. Negotiations were revived in 2014 when former Alberta premier, the late Jim Prentice meet with the band's chief and council.
The province says band members voted overwhelmingly in support of the settlement in September and October.