Gloria Gladue. Florence Calliou-Davidson. Terrance Alook. Alysa Zatelny. Bella Laboucan. Jessica Klymchuk. Courtney Johnstone. Tammy Calliou. Debbie Winiandy. Tina Fontaine. Mary Laboucan. Norma Hookanooza. Charlene Candace Catholique. Jevon Eli Patenaude. Sharon Lee Laboucan. Yvonne Desjarlais. Janet Papastesis. Allison Moses. Margaret Rose Bigstone. Clarissa English. Joey English. Darryl Smith. Dakota English. Amber Tuccaro. Ashley Simpson. Jasmin Mercredi. Alex Belcourt. George Belcourt. Monique Beaver. Moise Gambler. Clifford Auger. Philomene Young. Jasmine King. Pat Auger.
Those are the names of just some of the remembered by loved ones Thursday at the Sisters in Spirit vigil in Grande Prairie. The annual event honours missing and murdered Indigenous women, girls, and two-spirited people.
After greetings from local dignitaries and organizers at Grande Prairie Regional College, a group walked with drums and signs to the Grande Prairie Friendship Centre. There, they ate a meal of soup and bannock, shared stories, held a candlelit moment of silence, and a round dance.
Omarla Cooke shared her experience of losing four family members in a little over a year. Her nephew Dakota English, her niece Clarissa English, and Clarissa's boyfriend Kyle Devine were stabbed to death by a friend at a Lethbridge home in April 2015. After that, her niece Allison Moses was found dead, and her niece Joey English's body was dismembered and thrown away in several Calgary locations after she fatally overdosed.
"Today is a time for me to come and just really allow myself, but to share their stories so that this doesn't impact somebody else," Cooke says. "I want my daughter to walk freely and strongly wherever she wants to."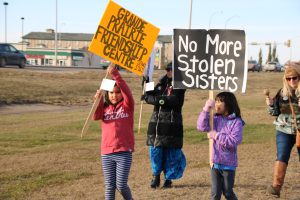 October 4th is a day marked across Canada, growing from 11 vigils in 2006 to 212 in 2017. Cooke hopes they continue to grow, and further a conversation about social change and the issues impacting Indigenous people in this country.
"We need to really have our elected officials and people who have, perhaps, clout in the community really listen. These women feel fear; there's a reason they feel fear, so how can we rid our world of that?"
In 2010, the Native Women's Association of Canada confirmed 582 cases of missing or murdered Indigenous women and girls over a 20 year span. In 2013, a report from the RCMP pushed that number to 1,181 cases nation-wide.
Despite there being new names and faces at the local vigil each year Vice President of the National Association of Friendship Centres Kelly Benning says she's hopeful. She points to local programs to help people heal and move forward, as well as federal initiatives looking at gender-based violence and gender inequity.
"We have to have hope. Sadly, we have children growing up with these vigils, but at the same time we have children growing up being aware and that's key."
Through several different roles in the community, Benning has been instrumental in starting up and continuing the Sisters In Spirit Vigil in Grande Prairie. She says she hopes people take the day to think of ways they create change.
"These vigils are to give hope and momentum, and so I hope that people feel empowered to get involved and move forward."