A second grizzly bear has been shot and killed south of Grande Prairie. Alberta Fish and Wildlife Enforcement says the animal was found on September 19th, 60 kilometres away from where a grizzly cub was found dead on September 15th.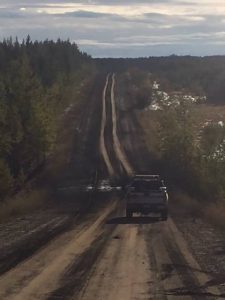 This bear was about 104 kilometres south of Grande Prairie on the Red Rock Road, which can be reached using the Wolf Creek Road and the Weyerhaeuser main road. The 500 pound adult male was spotted about 15 metres away from the road with a single gunshot wound to its chest.
Officers believe the bear was shot where it was found, like with the one-year-old female found under a barricade at kilometre 42.5 of the Weyerhaeuser Road. Similarly, the province is looking to find out more about why it was killed.
Grizzlies are classified as a threatened species and it has been illegal to hunt them in Alberta since 2006. Anyone with information is asked to contact the district office at 780-538-5265 or the 24-hour Report-A-Poacher line at 1-800-642-3800.