The B.C. Utilities Commission believes continuing the Site C Dam will only cost the provincial government billions.
After receiving 620 written submissions, and hearing more than 300 speakers in 11 communities, the independent review board believes the northern B.C. project is behind its scheduled November 2024 completion, and the overall price tag would exceed $10 billion.
Site C employs more than 2,000 people and has already spent $2 billion, and according to the report, it would cost an added $3.6 billion if it were to suspend and restart within the next decade. It is not up to the BCUC to continue or cancel the Fort St. John-based project; that decision now lies within the provincial government.
If Site C is terminated, the BCUC says it'll cost the province $1.8 billion. In a statement, Energy and Mines Minister Michelle Mungall says this will be an extremely difficult decision to make by the NDP.
"We inherited a project that was advanced by the previous government without proper regulatory oversight. We are going to take the time we need to make a decision on Site C that works for BC families, businesses, and the sustainability of our environment and economy."
The report also recommends other forms of energy, such as wind, geothermal, and industrial curtailment usage, potentially providing similar benefits for ratepayers. Mungall says the NDP's decision on Site C could come by the end of this year.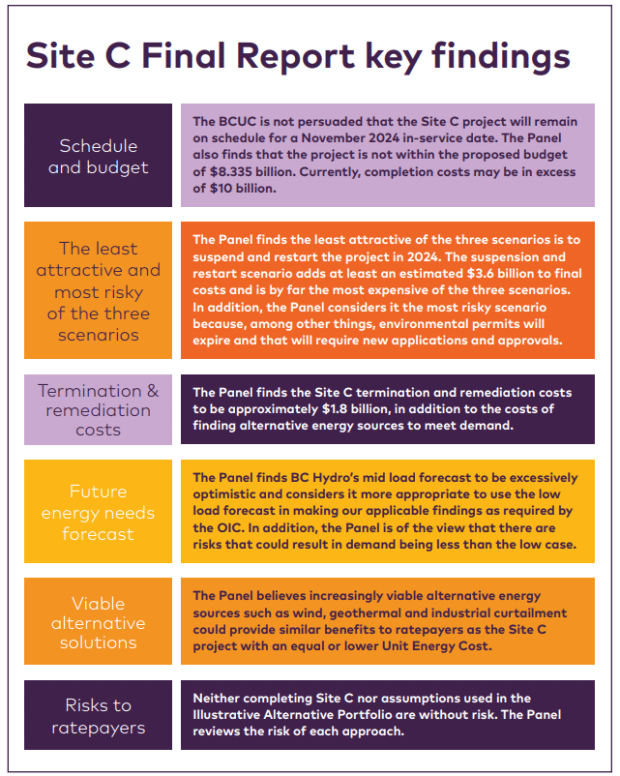 Written by Kyle Balzer, 94.3 The Goat