Imagine with me for a second: It's the weekend! You spent an hour on your hair, picked out the best outfit, and you are sooooo ready for a #girlsnightout ! You've got a DD or some cab money set aside, because you've planned for a safe ride home. It's clear you've planned for your safety- but has your favourite pub, club, or lounge done the same? Here are 7 ways to tell if your favourite pub, club, or lounge has your safety in mind: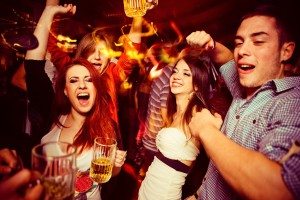 1.  They serve drinks in plastic glasses after 10pm. The plastic cups might not make a better instagram #cheers shot, but in terms of your safety, plastic is the way to go. This helps avoid glass pieces on the floor from broken glassware, or any misuse of the glasses.
2. There's a designated area outside dedicated to cabs to get you home safely. If the establishment is making it easy for you to get a safe ride home, that's a great sign. Running across the road or down the street to chase after a cab is not ideal.
3. They offer free or discounted non-alcoholic drinks for pregnant women and/or your Designated Driver. Need I say more?
4. They have a device (which we call servol) to accurately count the number of patrons on the premises. This helps ensure there aren't more people than fire regulations allow, so you can get out safely in case of an emergency.
5. They ask to see your ID. Listen, I know that as we get older this can seem annoying, but getting your ID checked is actually a good sign. Take it as a compliment!
6. They scan your ID as you come in. Not only can this double for a count with #4, this helps keep track of who is there in case of any emergencies, as well as help keep out patrons who could spell trouble for you and your friends.
7. The establishment is Best Bar None accredited. This means that your establishment has gone out of their way to adhere to higher safety standards. Ask your server if they are accredited, or look for a certificate of accreditation. To learn more about the BBN program visit: http://bestbarnone.ab.ca/
[cma-question-form cat=crime-prevention title=1 backlink=0]