Hundreds of people gathered and marched near Grande Prairie public and Catholic school board offices Wednesday. According to statements on the organizing website, the Million Person March for Children was planned to stop what it calls the "LGBT indoctrination taking over" schools in Canada, including northwestern Alberta.
Local organizer Dione Martin says they are fighting multiple levels of government for wanting to implement Sexual Orientation and Gender Identity programming. She adds they are looking for parents to have more of a say in what is taught in classrooms.
"We just want them to teach math, science, arithmetic and leave the kids alone with all the other programming," Martin says.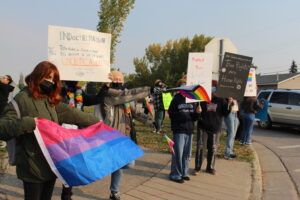 "We want to see the government actually interact with the parents. I feel like the push is on the teachers, so the teachers are implementing this, I feel, without parental consent. I think the parents need to be more involved, and many of them are scared to step up. The government needs to stop doing this, let our kids be kids."
A group also showed up to counter the protest. Organizer Dustin Archibald says they were happy to see dozens of people showing their support for 2SLGBTQIA+ students.
"We find that once people start stepping up, that the community is there for us, and is there for everybody in the community, and not just a certain number of people," Archibald says. "It's our position that they're misinformed, they don't know what they're protesting, and we are here just to stand up, and that it doesn't go unchallenged."
Similar marches were held in other Alberta cities on Tuesday, including Edmonton, Calgary, Lethbridge, and Fort McMurray, as well as across Canada.