UPDATE #6: The Municipal District of Greenview says Highway 43 will reopen at 4 p.m. Sunday. There will be a speed reduction to 80 kilometres per hour between Valleyview and Fox Creek.
It's noted that wildfire and utility repair crews will be working along the highway. Drivers are asked to slow to 60 kilometres per hour when passing them.
UPDATE #5: As of 7 a.m. Sunday, 511 Alberta still lists Highway 43 as closed.
UPDATE #4: The Town of Fox Creek says the highway will reopen at 7 a.m. Sunday morning.
UPDATE #3: Highway 43 is still closed as of 8:15 a.m. Saturday morning.
UPDATE #2: Highway 43 remains closed Friday morning between Little Smoky and Fox Creek. The recommended detour out of GP is to use Highway 40 south of Grande Prairie to Highway 16, then north on Highway 32.
UPDATE: As of 4:39 p.m., Fox Creek RCMP says it anticipates remaining on scene for several hours to direct traffic.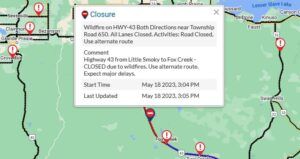 Wildfires have again closed part of Highway 43. As of 3:05 p.m. Thursday, the highway is closed from Little Smoky to Fox Creek.
511 Alberta tells drivers to use an alternate route and to expect major delays.