As of 9 p.m. Friday, Alberta Wildfire says there are six out-of-control wildfires burning in the Grande Prairie Forest Area.
The largest is 21 kilometres west of Highway 40 and 50 kilometres south of Grande Prairie. It is estimated to be 7,500 hectares in size. A wildfire estimated to be 2,000 hecatares in size was discovered Friday and is located 15 kilometres east of Cleardale.
Another estimated to be 1,000 hectares in size is located six kilometres west of Valleyview on both sides of Highway 43. Sturgeon Lake Cree Nation and Sandy Bay residents, along with people in north of Highway 43 and east Youngs Point Road, including Cozy Cove and Boyd's Lakeshore Properties, were evacuated to Valleyview Friday afternoon.
The wildfire in the Dunes area, eight kilometres southeast of Dimsdale, is estimated to be 400 hectares in size. Alberta Wildfire is helping firefighters from the County of Grande Prairie with mutual aid. All residents in the area of Township Road 710 south to the Wapiti River and between Highway 40 and Range Road 73 have been ordered to evacuate immediately. Structures are being threatened.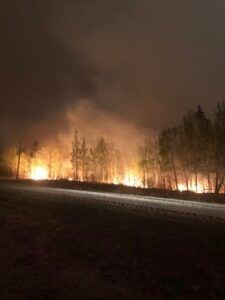 Provincial wildfire firefighters are also helping fight a fire 9.5 kilometres south of Rycroft in the Municipal District of Greenview. It is estimated to be 50 hectares in size.
A wildfire alert has also been issued for Saddle Hills County. There is an out-of-control wildfire burning in the Fourth Creek area, between Township Road 840 and the Peace River, between Range Road 75 and Range Road 85. It has grown to more than 2,000 hectares and authorities are asking residents living next to the fire area to perform mitigation measures on their property in case the fire moves in their direction in the coming days.
Wildfire Information Officer Kelly Burke notes that hot and dry conditions are expected to continue and will challenge firefighters and aircraft.
"The weather forecast is calling for a temperature of 28 degrees, a relative humidity of 20 per cent, and winds southeast 35 kilometres per hour gusting up to 50 kilometres per hour."
A fire ban and OHC restriction is in effect for all Forest Protection Areas in Alberta. All outdoor wood fires are banned, including wood campfires on public lands, wood campfires on private land, and provincial campgrounds. The recreational use of off-highway vehicles on public lands, including designated OHV trails, is also prohibited.