Update: The Grande Prairie RCMP says they have identified and arrested both suspects believed to be involved in a robbery at a Grande Prairie hotel on March 1st. However, the stolen vehicle has not yet been recovered. More information will be provided by police when available.
Grande Prairie RCMP are asking for the publics help in identifying two men believed to be involved in the robbery at a hotel in Grande Prairie.
Officials say on March 1st around 11:56 p.m. RCMP received a complaint of a robbery at a hotel in the area of 120 Avenue and 100 Street. According to police the two unknown suspects assaulted the occupant of a room before leaving the area. The men are said to have left in two vehicles, the first being the victims 2003 Dodge 2500 with a B.C. liscence plate reading SP5171, the second vehicle is a white Chrysler four door sedan.
Police say the first suspect is a caucation man with a slim build, around 6'0″ tall, with long hair and a moustache. He is said to have been wearing glasses, jeans, a jean jacket and ball cap at the time of the incident.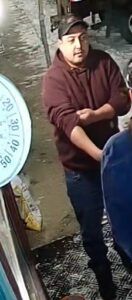 The second suspect is a man with a stocky build, who has short hair. He is said to have been wearing a dark coloured hoodie, jeans and a ball cap.
RCMP say the incident is still under investigation and are asking for the public's assistance in identifying the individuals involved. Anyone with information is asked to contact RCMP or Crime Stoppers.