More than 150 people bundled up for the minus 20-degree weather Saturday taking part in either the two- or five-kilometre Coldest Night of the Year Walk. Heading into Saturday's event, $34,811 was raised for the Canadian Mental Health Association Alberta Northwest Region.
The Servus Shreadin Union team, captained by Servus Credit Union Branch Manager Tammy Fehr, raised $2,186. Fehr says being able to give back to the community is important for their team.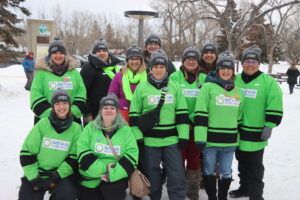 "I think over the past few years we have seen a huge difference in the impact on mental health and homeless in our community," Fehr says. "It is just great to come together and support an event like this and support this organization and the work they do."
Kristina Purcha is the Captain of the Strasdin-Sangha Orthodontics team, who raised $10,295 towards the walk, echoes Fehr's sentiments when it comes to the importance of supporting the Canadian Mental Health Association and the work they do in the community. She adds it was heartwarming to see that even though people couldn't come out and do the walk themselves they took part by making a donation.
One comment made numerous times during the event was how nice the weather was, to which Purcha added, "As much as I like to say it is warm, or nice for a walk, it's minus 20 out. I can't even imagine being outside and being homeless and having to deal with that."
All funds raised are going to support the Canadian Mental Health Association Northwest Region's Mobile Addiction Outreach program, Recovery College programs, and Willow Place, with donations still being accepted.