A new space in Sexsmith Secondary School dedicated to showcasing Indigenous culture was the result of an idea from two of the school's teachers.
Angela Creighton explains she and her colleague Eric Goodwin had come up with the idea of creating an area in the school dedicated to the Indigenous culture after hearing a presentation from the Peace Wapiti Public School Divisions Indigenous Education Services team. She explains ideas for the project were spitballed around at first, and then they started to snowball.
"Originally. we were going to place the seven sacred teachings on our stairs and work towards our steps towards reconciliation," Creighton says. " Then maybe put some artwork or information at the top of the stairs."
With support from the Indigenous Education Team, the two teachers learned that they could apply for a grant to support this project. The $2,000 grant they received helped take the project to the next level, as they were able to look into different Canadian artists and different ceremonial items and artifacts to be displayed.
Creighton says that all the items purchased relate to one of the Seven Sacred Teachings, love, respect, courage, honesty, wisdom, humility, and truth.
"So each month or every month and a half is going to be based on one of the seven teachings. So, for instance, this month is November, so it's Remembrance Day, so we are focused more on courage."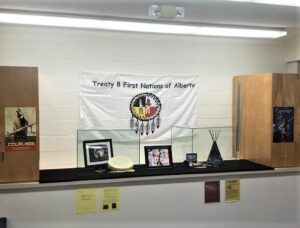 Creighton says that a conversation that has been had between her and her colleagues about these words and teachings is how they would like to see a lot more of them in the school. She says coming back from the pandemic, and from a time when the students maybe didn't communicate as often as they do now, some of these concepts fell by the wayside. She says that these are concepts and ideas she and Goodwin both have talked about with their students, and they hoped that other teachers would start to have the same conversations with their classes.
On another note, Creighton says that throughout her life she has always been interested in different cultures and has travelled to different countries to learn about them. However looking back she feels that she was not as educated about the Indigenous cultures in Canada, or everything that these communities have gone through. Creighton says that she is continuing to learn about these situations and stories, and believes that if you don't have the right people sharing about their experiences and what they have gone through it can be hard to fully understand.
"I now recognize that we have this amazing and beautiful culture in our own backyard, and here I was going to different countries to seek out and learn about culture," Creighton says.
Just over 14 per cent of the school is declared as Indigenous, or a part of a different cultural background, and Creighton says this area in the library is a way to support those students to share a piece of themselves when they may not otherwise have the opportunity.HelloSafe says the data was pulled from a month-long survey run online in October 2022, with 1,068 respondents from across Canada taking part.