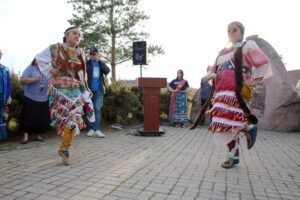 Grande Prairie is once again one of more than 80 cities in Canada marking Sisters in Spirit Day. A ceremony was held Tuesday evening at the Spirit Sister Rock on the trails by Northwestern Polytechnic, followed by the 13th annual walk to the Grande Prairie Friendship Centre where a meal was shared.
Sisters in Spirit Day honours missing and murdered Indigenous women, girls and Two-Spirit people on October 4th each year. Sheila Moerkoert with the friendship centre has helped plan the vigil for years and says it's important to remember it's not just an issue of the past.
"There are still missing and murdered Indigenous women. Our sisters are still going missing; they're being murdered and it's a crisis right now in Canada and so we need to walk together to bring awareness annually and to remind everyone that we're still here and that we care."
Many taking part held pictures of loved ones lost as they walked, with more memorials on display at the friendship centre. Moerkoert says it's important to show support for those grieving as well as make a statement that the community won't stand for violence against Indigenous women.
"I have family and friends that… this is near and dear to their heart and, being an Indigenous Métis woman myself, I want to bring awareness and I want to make a safe path for my daughter growing up and that this is hopefully not an issue for her as she grows to be a woman."
According to a 2014 report by the RCMP, more than 1,200 missing and murdered Indigenous women were reported between 1980 and 2012 in Canada. Indigenous groups say the number is likely more than 4,000.