The public is invited to take a peek at the new and improved Lewis Hawkes Arena after a $1.1 million makeover.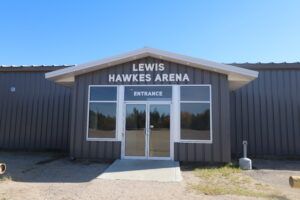 Built in 1972, the arena moved from its original location at the old fairgrounds land in Grande Prairie's east end in 1982. Evergreen Park General Manager Dan Gorman says while the building was still functional in its old state, the time for repairs and upgrades was certainly long overdue.
"It [the building] was just pretty dark and dingy… the bones were good and served the community well for decades, it just needed an upgrade and, it got that," he says.
"Everything from tin all the way through, new lights, washrooms, bleachers, just a new upgrade. We've gone from seating for about 150 to being able to seat about 1,000 so we are very excited about that."
Gorman says while the namesake of the building was honoured posthumously, he is hoping the next generation of Hawkes will be able to attend the special event on September 30th. He adds being able to keep the legacy of Lewis Hawkes alive is something they are thrilled to be able to accomplish.
"He was on the board, animal breeders association; just a very large supporter of the agricultural industries in the Peace Country and especially around Grande Prairie," he says. "Some of the Hawkes family are still in the area and we're hoping they'll be showing up."
You can find more information about the Lewis Hawkes Arena Renovation Celebration on the Evergreen Park website.